Plastic Comb Binding: Comb Binding Sizes Range from A6, A5, A4 and A3
Here are various binding methods available when you would like to bind your document, books, notebook, etc. But if you need a simple, cost-effective binding technique, then comb binding can fulfil your need. Day Night Print can bind your document using a plastic comb binding technique. The paper size includes A6, A5, A4 and A3. When your document is ready for binding, send it to us. So simply you can order our same day binding service and get it delivered the same day.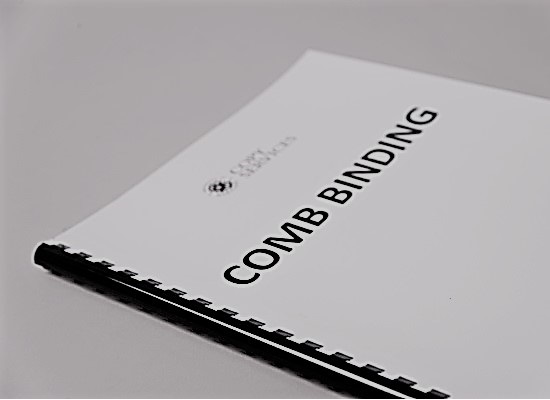 Why Choose Us?
Day Night Print is a digital print shop that provides various printing and binding services in London. Particularly, we offer plastic comb binding service in London, including surrounding areas. No minimum binding amount. Meanwhile, we can bind various sizes of paper as per your requirement. Also, we keep your confidential document private. Our quick turnaround time helps us to gain faster production. You can order 24 hours and 7 days a week. We are open 24 hours and 7 days a week. 
Features of Plastic Comb Binding
The plastic comb binding starts with the plastic spine, which shapes are cylindrical. And printed documents to bind them together. The regular plastic spine colour is black. But there are a few colours available. In fact, you can match the colours of the spine according to your need. The binding spiral can come in different sizes. Generally, plastic comb binding sizes are eleven inches long. This comb contains 19 holes. Furthermore, a transparent cover will be added to your document. Therefore it's an affordable option for binding. Comb binding allows you to read your document the same as book reading. 
The plastic binding makes it more flexible and comfortable to use the document. Furthermore, it can lay flat, but it's not 360 degrees rotatable. 
When to Use Plastic Comb Binding?
Plastic comb binding is a popular method for binding documents. It's a simple binding method that is durable and reusable. It is the perfect solution if you are thinking of a reasonable and long-lasting binding option that can be easily replaceable. You can present your document professionally and attractively to showcase your document. 
There are various paper items that are suitable for comb binding. For instance, reports, school papers, past papers, records, financial records etc. So easy replacing features help to increase workflow speed.
How does Comb Binding Work?
Making a comb-binding document is nearly similar to the spiral binding. Initially, the paper needs to be punched to make a hole. Maybe a round or square hole plastic binding you need. Both of them are available. Then the plastic spine insertion process starts, which combines the paper and finishes binding. If the paper quantity is larger, we shall use a specific method of making holes using a paper drill or modular punch. 
So the binding process is simply as follows:-
1. Punching of the paper, including covers
2. Place the cover and paper where the cover will be at the top and bottom
3.Finally, open the plastic comb using the machine and close it.
Our Services
Apart from plastic comb binding services, we offer similar to spiral binding services. Another type of our core service is printing services, such as flyers, business cards, leaflet printing services etc. Absolutely, those are available on same day printing and delivery. 
FAQs
What are the different types of binding?
The commonly used binding techniques are Comb, Spiral and Thermal Binding. 
What is plastic comb binding?
Plastic comb binding is a method to secure loose paper using a plastic spine. The plastic teeth insert inside the paper after making a hole in the paper. 
Is comb binding durable?
Yes, it is a durable binding method to bind documents, books, financial records etc. 
Is plastic comb binding better for the home or office?
The plastic comb binding can be used for both the home and office. As a professional binding service provider Day Night Print can bind your document for both the cases. 
How do I comb bind my document?
To bind a document you will need a machine, plastic comb, and transparent front cover. First, make holes using a machine after placing the paper on it. Then place the comb over your machine and insert your paper. Once it is done, lock the document.  
How do you bind a large book?
To bind a large book paper we need a paper drill or modular punch to make whole in the paper. But there is a certain number of page ranges for binding. If the paper quantity. Such as some comb binding can be 450-600 page highest.
Can you cut plastic binding combs?
Yes, you can cut plastic binding combs using scissors to shorten the length of it. In case of a short length document you can cut it and do the job.
How to remove plastic comb binding?
To remove plastic comb binding you have to simply pull the comb opener lever after placing the document. During this time you can rearrange or replace your document and file if you wish to rebind it.